The conference is aimed at freelance and in-house translators, localisers and technical writers, agency project managers, teachers, researchers and students of translation, .
Dates: Friday 9 and Saturday 10 October 2009.
Friday morning: Lectures by world experts on machine translation, computer-assisted translation, and localisation.
Friday afternoon: Software today and tomorrow. Presentations by software houses, introduced by translation professionals and representatives of AITI and FederCenTrI. The afternoon will end with a round table between translators, technical writers and localisers. Throughout the day the software houses will maintain information points with product demonstrations.
The conference will include a book exhibition.
Saturday morning: Laboratory workshops giving hands-on experience of translation and localisation tools, run by Friday's lecturers and by SSLMIT experts. Numbers for each workshop are strictly limited, and would-be participants should enrol for these separately from the Friday sessions.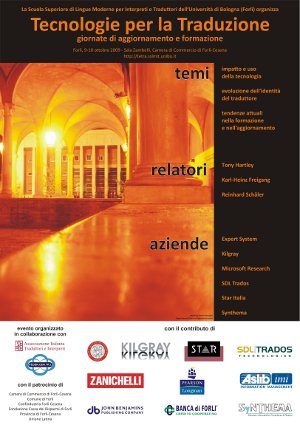 Download poster (9.86 MB)